What Is EZShield?
EZShield Check Fraud Protection Program® + Identity Restoration Pro
EZShield Check Fraud Protection Program®
Delivers an advancement of funds up to $25,000, generally much faster than a bank, in the event of forged signatures, forged endorsements and altered checks.
EZShield Identity Restoration Pro
Helps protect your information and provides professional assistance to restore your identity when identity theft occurs.
DID YOU KNOW...
More than 1.2 million fraudulent checks are written each day
(Office of Comptroller of the Currency)
An identity is stolen every 4 seconds (Javelin Strategy & Research Gallop Poll)
Make sure to add EZShield to your order during checkout!
securiguard® checks
We offer Securiguard® Checks with 7 advanced security features, including:
Chemical Protective Paper
Microprint Signature Lines
2 dimensional holographic foil - irreproducible on copiers or scanners
Security Screen - Absence of "Original Document" verbiage on back of check
Padlock Icon
Available in Blue or Parchment, Securiguard® Checks are traditional and secure.
PROTECT YOURSELF WITH RFID PRODUCTS
What is RFID?
Radio Frequency Identification (RFID) refers to a small transmitting device that can be embedded in an object (e.g. credit card) and transmits information from that object to a reading device, such as a grocery store scanner. RFID technology is utilized in many household devices, including passports and credit cards.
What are the Risks of RFID?
Cards that have RFID can be convenient, but are at risk of Electronic Pickpocketing. Electronic Pickpocketing is the theft of your personal information using scanners that read RFID information from a distance without ever touching your purse or wallet.
How Can You Protect Your Information?
We recommend setting up alerts to monitor your accounts, regularly practicing general security consciousness, and purchasing our security and RFID-blocking products to reduce the risk of wireless pickpocketing theft.
Featured Fraud Topic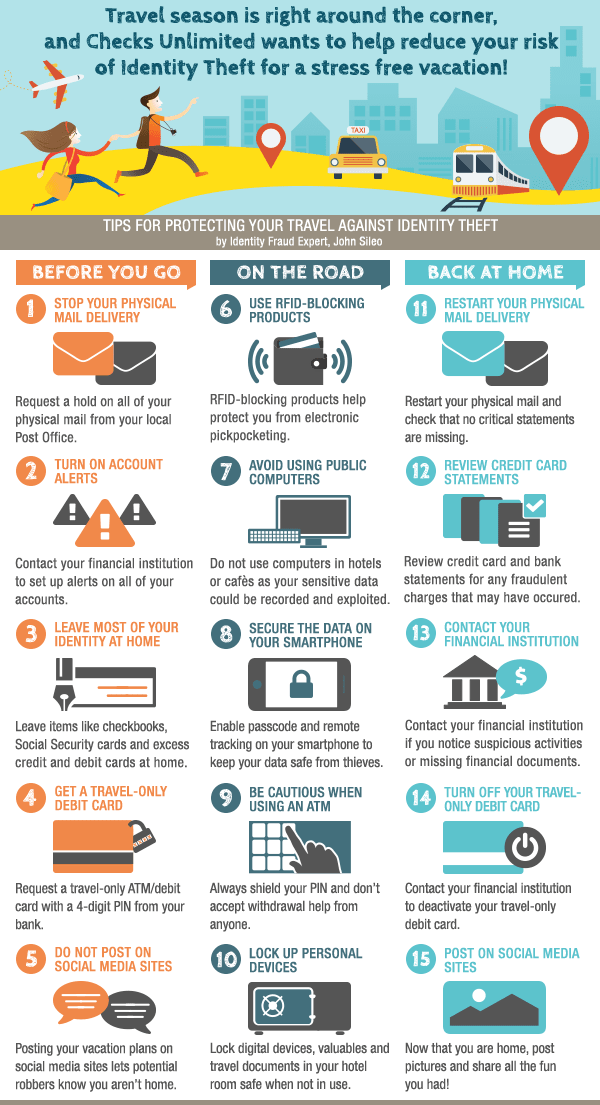 As part of our Fraud Prevention Education, Checks Unlimited sends emails with helpful tips and information regarding your identity and safety.
SIGN UP for special offers & fraud prevention education emails!

We hope this article has made you feel empowered when it comes to preventing fraud. Want to continue learning more about protecting your personal information? These articles are here to help: